3333 Piedmont Rd.
Suite 1500 NE
Atlanta, GA 30305
Google Maps

Contact
Main Phone: 866-595-2470
Web Site: http://www.ridgeworth.com/

Mutual Fund Brand(s)
RidgeWorth Funds (formerly, STI Classic Funds)

Research Links

Background:
On December 16, 2016, publicly-traded, subadvised mutual fund shop Virtus Investment Partners publicly agreed to buy RidgeWorth. The $513-million deal, which would keep key RidgeWorth investment professionals on as shareholders, is expected to close in mid-2017.

RidgeWorth is a private-equity-backed firm that started in 1984 as an investment management arm of SunTrust Banks known as Trusco Capital Management. It became independent in a management-lead buyout backed by Lightyear Capital LLC in 2014.

RidgeWorth has six investment boutiques: Ceredex Value Advisors, Certium Asset Management, Seix Investment Advisors, Silvant Capital Management, StableRiver Capital Management and Zevenbergen Capital Investments.
Sale to Lightyear
On December 11, 2013, SunTrust executives said they would sell RidgeWorth to private equity shop Lightyear Capital and to RidgeWorth employees for $245 million and up to $20 million of incentive payements.


Business Strategy
Since the sale to Lightyear, Ridgeworth has been open to a growth by acquisition strategy. In February 2014, MFWire reported that is looking to buy boutique asset managers.

In January 2014, the firm planned a 30 percent increase of its sales force.


History
Trusco was incorporated in Atlanta in 1984. In March 2008, Trusco changed its name to RidgeWorth and the STI Classic Funds were subsequently rebranded RidgeWorth Funds.

In January 2010, a report surfaced in the media that SunTrust hired Sandler O'Neillto explore a possible sale of RidgeWorth.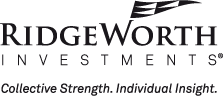 Sponsored Opportunities
Key People:
Jim Stueve
Stueve Insights
Julia Short
Managing Director, President and CEO , Virtus Investment Partners
Ashi Parikh
Chairman, CEO, Chief Investment Officer, RidgeWorth Investments
John Stebbins
Chief Financial Officer, RidgeWorth Investments
Bob Zakem
CCO and General Counsel, RidgeWorth Investments
Joseph O'Donnell
Member of the Board of Directors, Atlanta Symphony Orchestra