115 S. Wacker Drive
Suite 3950
Chicago, IL 60606
Google Maps

Contact
Main Phone: 312-373-6280
Web Site: http://www.astorassetmanagement.com

Mutual Fund Brand(s)
Astor

Research Links

Background:
Knight Capital Group announced the purchase of Astor Capital Management for $20 million in cash and stock on July 26, 2010. Astor will operate as a wholly-owned operating subsidiary of Knight Capital. The deal is expected to close in the fourth quarter of 2010.

Robert N. Stein founded Astor in 2001. The firm's investment strategy is to identify fundamental economic shifts that drive markets. It uses proprietary macro-economic models to construct portfolios of exchange-traded funds for advisors.

In November of 2009 it launched the Astor Long/Short ETF Mutual Fund [CIK] as its initial mutual fund.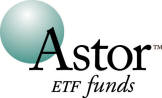 Sponsored Opportunities
Key People: